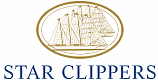 On the tall sailing ships of Star Clippers, the traditions of the past combine with the amenities of the present for a unique cruise experience. Guests will enjoy a relaxed atmosphere, friendly crew and international cuisine with no rigid agenda or formal dress code. You might want to join the captain on the bridge as he plots the ship's course, learn how to splice a line or reef a sail, or just sit back and relax.
Star Clippers ships are inspired by magnificent sailing ships of years past but with the accoutrements of luxurious classic yachts. Outfitted with some of the modern conveniences of traditional cruise ships, each vessel is designed for comfort, ease and efficiency. Passengers can cool off in one of the pools or unwind with a drink and favorite song in the piano bar. On beach days, swim, windsurf or water-ski from the ship's marina platform.
For a one-of-a-kind sailing adventure, consider a Star Clippers cruise.
Officers: EuropeanCrew: International