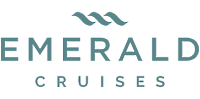 Travel along stunning coastlines aboard an upscale superyacht with Emerald Cruises. The company's custom-built yachts allow unique access to fascinating ports and harbors that only small ships can reach.
Emerald's intimate vessels accommodate up to 100 guests and offer an exceptional all-inclusive experience. You'll enjoy modern oceanview staterooms with deluxe amenities. Each ship boasts spacious lounges, outdoor terraces, spa and fitness facilities, an infinity pool and daily entertainment. The company's ships are also equipped with Zodiacs, snorkeling gear, paddleboards, floating platforms and water trampolines.
All meals on board the ship, shore excursions, airport transfers and tipping are included in the upfront price. Excursions are led by experienced guides who cover more than just the usual tourist attractions, revealing hidden gems and authentic experiences. Complimentary tea and coffee are available at all times on board the ship, while a special selection of wines, local beers and soft drinks are offered at lunch and dinner.
In addition to oceangoing cruises, Emerald offers river cruises in Europe and Southeast Asia. To see itineraries and prices for the company's river cruises, click here.
Officers: International Crew: International